Music in the Gardens
The public success of these professional concerts has been gratifying, and the series continues to showcase high quality local talent. All concerts are held on alternating Sundays at 3:00 p.m. near the Gazebo in Munsinger Gardens on the banks of the Mississippi River. All concerts are free and the Munsinger Clemens Botanical Society will again sell those fabulous root beer floats.
---
2023 • 24th Season
Save the Dates for the 2023 Music in the Gardens. Musician groups are to be determined.
June 11 •
June 25 •
July 9 •
July 23 • – "Memorial Release of the Butterflies"
August 6 •
August 20 •
Program schedule may be subject to change.
The July Memorial Release of the Butterflies is put on by Quiet Oaks Hospice House. For more information and details visit quietoakshospicehouse.org/butterfly
Root Beer Floats:
Root beer floats have become a delicious tradition at this event! We'd like to thank the following companies for their generous and refreshing donations over the years:
Kemps
Bernick's
Coborn's
Dairy Queen on 25th and Sauk Rapids
---
Sponsors/Financial and in-kind support by:
UCare
Quiet Oaks Hospice House
Stearns Electric Association
Legacy Funds
St Cloud Parks Department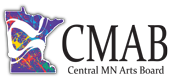 This activity is made possible by the voters of Minnesota through a grants from Minnesota State Arts Board and the Central MN Arts Board, thanks to a legislative appropriation from the arts and cultural heritage fund.
Sponsors:
Quiet Oaks Hospice House
Related Events